So I found this online and thought i'd share it.
Does anyone else use their clipcord the 'right way'? Or is it just a load of bullshit? The post makes fence but never given it a thought before, just connected the machine and away i go as it works both ways.
MACHINE POLARITY TUTORIAL
A tattoo machine will run either way you connect your clip cord to it, but you should take care to connect it the right way, because of the capacitor that's installed in the machine electrical circuit. Axial capacitors are the most used in tattoo machines, and they are polarized. They have positive and negative lead ends, and if you invert voltage, it will cause a disfunction that may destroy the center layer of dielectric material and cause a short circuit, even heating up and bursting.
To avoid this kind of problem, learn how to attach your clip cord correctly: it's common between most tattoo machine builders to place the capacitor with the positive end pointing downwards, connected to the rear binding post, and the negative end pointing upwards, and connected to the front binding post. This means that you have to connect the positive hook of the clipcord (usually marked in red) to the rear binding post of the machine (bottom), and the negative (marked in black) to the hole underside of the spring deck part (top), as the following picture shows: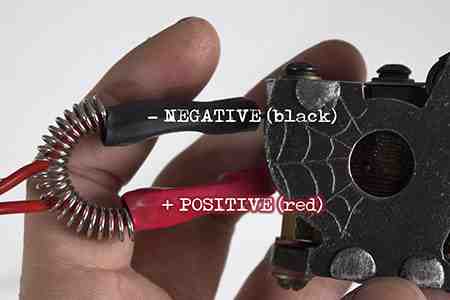 [/url]
ALL MY MACHINES are set this way, so remember, black on top, red on bottom, always. In some cases, when I place the binding posts horizontally, the positive one is the left post, and the right post is the negative. Always connect your clipcord correctly, and your machine will perform better, dramatically extending the capacitor life.
Now, some of you will say… "but my clip cord hasn't got any red / black distinctions". Yes, some manufacturers don't put any mark on them. To find which are the positive and negative ones, you can unscrew the cover on the jack connector (the cord part that you plug into the power supply), and check the two pins to which the two cables that compose the clip cord are soldered. The one in the center is the positive, so follow that cable and you'll find the positive end on the other side of the clipcord (I'd suggest to mark it so you don't have to check again). The negative pin is the longer one, or the "sleeve"; check this diagram for better understanding:
[/url]
To end this tutorial, if you own other machines (not built by me) and you want to check if the capacitor is connected to the machine circuit in "the correct way", take a look at it: capacitors usually show a groove on the positive end, and it should point downwards. Also, an arrow is usually printed on the capacitor, pointing the negative side, upwards. If you find that the capacitor is inverted (groove, positive on top, negative on the bottom), you just have to connect the clip cord inversely, too (red on top, black on bottom).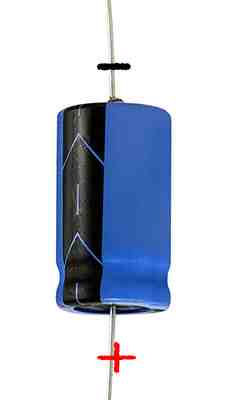 I use my clip cord as above and on a rotary usually the top lug is positive, the reason is so the motor runs clock wise looking at the cam, running a mixture of both ways will indeed wear the motor brushes.

Just on a side note, there are many chinese clip cords with the jack plug not wired correctly (usually rca) and even polarity on power supplies wrong, I have heard so many times that on certain rotary machines this can cause a problem, Bishop for one if the pos and neg are reversed on the cord the machine will not run, it happened to a mate of mine only recently and he had to refund the purchaser, loads of posts about it on the net.



Posts

: 92


Join date

: 2016-05-04



Didn't realise the motor would run the opposite way if connected wrong, but then again I dont really use rotarys much.
You learn something new everday
i heard about this a long time ago and wondered why none of my damn cables have any markings. it sounds pretty important...

i wind up having to use an ohm meter to find the lead that is wired to the tip and mark it in red and clip as shown above.

i didn't know that about rotaries having to go clockwise... gonna have to start doing that...





Posts

: 301


Join date

: 2016-05-04


Age

: 38


Location

: Southern West Coast U.S.A. 818/213



Oh it definitely isn't bullshit.. I was going to post a youtube link showing capacitors exploding when hooked up in reverse, but I haven't been here for 7 days yet. You can find them easy by going to youtube and looking up "electrolytic capacitor reverse" or "electrolytic capacitor explosion" easy enough. Plenty of examples.

In tattooing, it wouldn't happen right away, since we usually run the voltage on the low side and in short bursts as we work.  But sooner or later, it will have had enough and and you'll be holding down the pedal while doing something like laying in colour and it can go bang.  It may not actually go bang.  They can also squeak or hiss while blowing out a cloud of chemical steam.  There's a little bit of liquid inside them, like a battery.. Usually magnesium dioxide or one of the oxides of aluminum in some sort of a solvent fluid and a bit of some chemical salt of aluminum, and I don't know what it would do to a "fresh wound" like a tattoo, but I doubt it would be good.  If they do explode, there can be enough force involved to cause some injury at close range, since sometimes the aluminum "can" can break into pieces.  It certainly won't be good for the tattooer or tattoo-ee's nerves, even if no actual injury happens.  LOL

There's another problem that the post tyler quoted doesn't mention.  To work right (have the correct value), the power has to be hooked up right, as regards the capacitor polarity.  If you hook it sometimes one way and sometimes the other, your machines can behave very differently because the value of the cap isn't the same when it is backwards.

A coil machine will work (at least for a bit) hooked up backwards.  It will also work if you take the capacitor out altogether.  But in neither of those cases will it work the same as when it is hooked up right.  Just one of those things you double-check if a machine doesn't seem to be running like you expect. You may be able to tweak and adjust enough to get the machine working well enough to get by for a while, but you aren't really going to be getting it's best performance.

Oh, and a couple more things about the electrolytic capacitors we use on coil machines.. Hooking them up sometimes backwards will likely damage them so they won't work at the rated values even when they're hooked up the right way. Most likely result would be the capacitor will be a partial short circuit inside and so the machine would seem weak since your coils won't be getting the power that they should. And old ones, like say 10 yrs or more old may not be working correctly either. The fluid inside can dry up so they don't work much at all, and that would make a machine more prone to sparking and running rough.

Fortunately, they aren't expensive to replace.



Posts

: 22


Join date

: 2016-05-28



I'll be making sure the machine is connected the right way from now on. Don't fancy a little explosions going off in my hand.
Thanks Fadedink, been on YouTube and here's a link I found of someone hooking up caps the opposite way.
https://m.youtube.com/watch?v=WD0Z7eeDJCM


Similar topics
---
Permissions in this forum:
You
cannot
reply to topics in this forum