A few more pieces from the weekend. I'd planned a few portraits, practise skin all stencilled up and one completed when my RW ID liner arrived earlier than I expected...so naturally I had to have a play.
I used it to line the owl piece. Started off shaky and tentative, as for one the machine is flimsier than I'd imagined. I was a bit surprised by the plastic tube holder. I was genuinely looking at it and wondering where my money had gone. So a few lines in and I'm starting to think it may be a good investment, and by the end of this smallish piece I think it was love. It just felt so easy compared to coils. I literally threw the shading in to get on with the other stuff but really pleased with the RW ID so far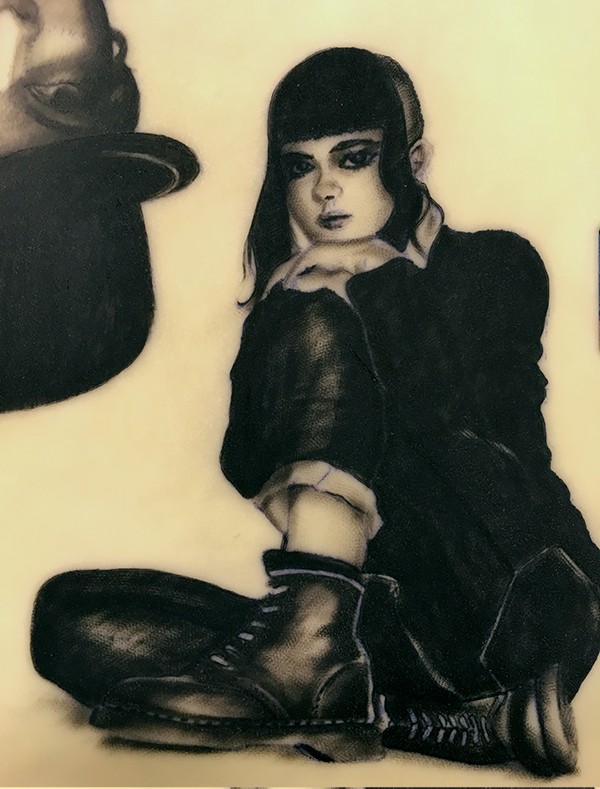 awesome. amazing portrait skills

just because something is plastic don't make it bad. some bad ass ar-15 rifles have plastic receivers



Posts

: 301


Join date

: 2016-05-04


Age

: 38


Location

: Southern West Coast U.S.A. 818/213



I'm sure you're right and to be fair...it does the job I wanted, so I'll live with the plastic and be careful not to drop it anytime soon.

You had your RW up and running yet? I was tempted to get the same one as you and if I'm in the market for another then I like the look of the retro, though the needle retainer is a nice addition on the ID.

Aside: I bought a needle retainer attachment for my Sharpz microdial, but it never felt as integrated as this new one. It's just sitting in my spares box.

regarding the portraits...I was in total awe of Kneehigh's B&G work when I first started using the forum, and trust me I still think some of his stuff is shit hot (i miss his postings). But after doing a few I realise it's a technique that we can all learn. Don't get me wrong, I fight with everyone and its not a natural thing, still loads to learn, but I like doing em and I believe there's still good money in portraits (??)



Posts

: 30


Join date

: 2016-05-05



No Quater wrote:Plastic tube holder?
The hole that the tube stem goes through is part of the aluminium body, but what is effectively the tube vice, to lock the tube in place, is plastic.
UPDATE: I double checked on this component as I don't wanna do RW a disservice if I'm wrong. Its dificult to say for sure as the piece is so light, whether ali or plastic. The surface finish looks a bit shinier on the retainer and there is a difference in temperature in the hand. Frame components are stone cold while the retainer piece is warm. I could be wrong on this, but my best guess is plastic. Not to take away from the performance of the machine...which is good based on 3-4 practise pieces.
no i have not tried mine RW yet. really good excuses.

i remember a post talking about dragon fly clones with plastic needle wheel things being better than the ones with metal. i don't know if it applies to all of them in general. i don't know what the really high end machines have.

mine is all hefty metal with the exception of the connecting rod.(motor to piston.) my stornm has a metal connecting rod, ans so do all my clones which leads me to believe the plastic connecting rod is intentional and not cutting corners. i can see how a high quality polymer with flex is superior to rigid metal in some applications.

for you next rotary you may wanna try one that has give see how you like that. i mean, you can tell your is just basically the same as mine with maybe slight improvement and the needle wheel.

the give adjustment throws in another variable but slight adjustments and you see the differences, but you already know cuz you got a prodigy clone.






Posts

: 301


Join date

: 2016-05-04


Age

: 38


Location

: Southern West Coast U.S.A. 818/213



Ok, i did not kno that, with the brass ones that is also brass.



Posts

: 30


Join date

: 2016-05-05



That's some good work whippet!



Posts

: 215


Join date

: 2016-05-12


Location

: The wet welsh valleys





Similar topics
---
Permissions in this forum:
You
cannot
reply to topics in this forum