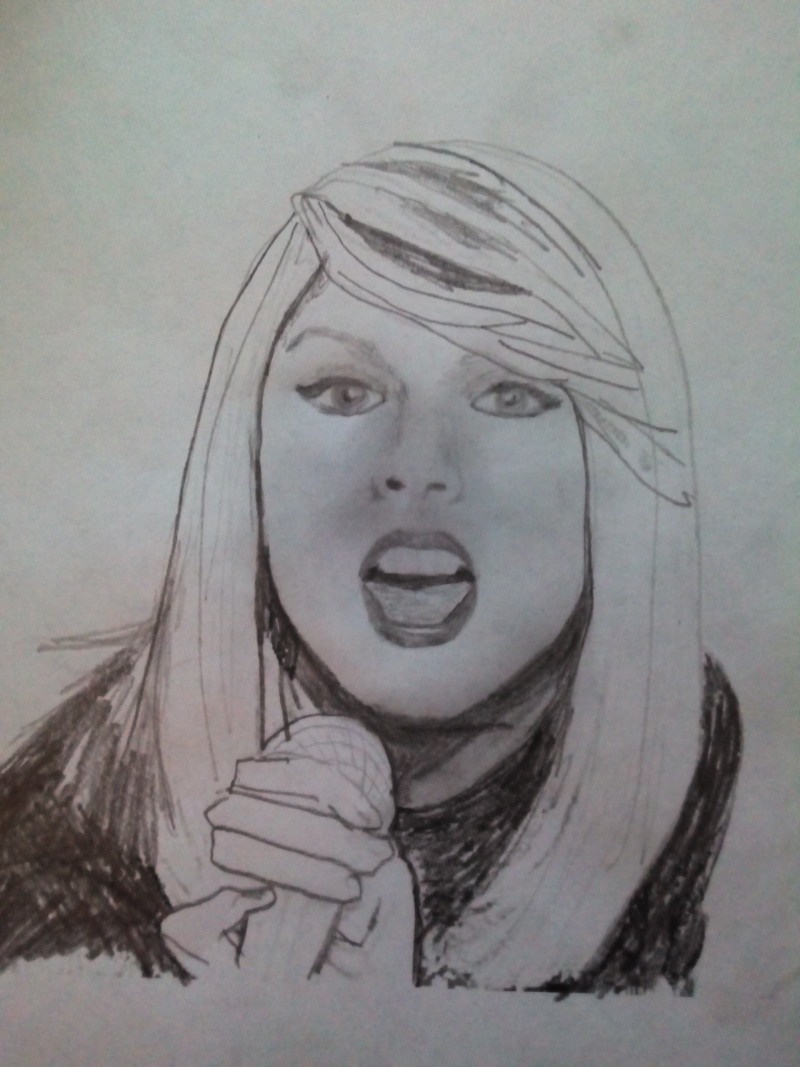 Dollar Store paper, 2H, HB, 2B, finger
i hate portraits
you can clearly see when my ADDHD kicks in and i lose my patience and wanna just end it. like 1.5 hours in.
it's damn good for me being intoxicated and late at night.
you can clearly see it is celine dion.
god i hate portraits.
this is a followup to
a previous post
of which some discredit as not being a pencil portrait just cuz its done in photoshop. which of course wasn't a pencil portrait because it was done in photoshop.
not much to say a part from you need to practice more
if you hate portraits that much why do them?



Posts

: 202


Join date

: 2016-05-07



the same reason you do ab crunches and cardio.

and i haven't been practicing those either.
If you're working from photo refs (and you should) look for more contrast in the source image, try to avoid full-frontal even (catalogue) lighting.

Old people give you a better shot as there are more facial landmarks.

Keep doing the crunches as they WILL pay off, that's guaranteed



Posts

: 149


Join date

: 2016-05-04


Location

: UK



i can give you some amazing advice when it comes to hating portraits ,,,,,, dont do them !! i make a living tattooing and i never do portraits for a number of reasons

1 i dont like them

2 they aint old school

3 they do not interest me , nor do religious themed sleeves they bore the fucking life out of me so i dont them , if i cant talk my client into something else i pass the work on to a good portrait artist , quite often ill recommend someone off this forum who i know can a good job . if you dont like them you are not passionate about them dont do them , but a portrait cannot be half assed !! thats the way i see it , i know this might sound cruel but if someone brings me a photo of a child they have lost and i cant bee 100 % confident and passionate about doing my best and giving them something to love then i wont do it , end of


people make a living in tattooing without basic skills like lining !!!! you can survive without doing portraits
Admin




Posts

: 501


Join date

: 2016-05-02



@whippet

you are right about the contrast, that was the hardest part because many of her pics there is no contrast on her face. this one was almost all white. took me forever to get eyes nostril and mouth right even with cheating and measuring just to capture her likeness. but you are definately right.

@loulou
you have a good point and i'm not interested in portrait tattoos. not until the tattoo eraser comes out.

just a good way to excersize you eye and mind.

i think portrait tattoos are lame anyway, we have photographs for that, you don't need to walk around with it on your skin. i think anyone asking for one is a lame artard. who could you possibly love so much in this world that you would put there picture on your skin. maybe a dead pet dog.

i remember in the joint there were some masters who could do portraits, so everyone wants a damn portrait of whoever, and but i swear only 30% of the time he capture the likness, the rest were just sort of, or someone else altogether. hit and miss, mutherfuckers all want a portraits but when you wipe that ink and it looks like your wife but with down syndrome,

tell her "its supposed to be you dird da dird da derda der honey" but i'm a jackass and paid $6 bucks for this cuz i love you even thogh i do do nothing to help out raise kids and continually coming back to jail for @40 worth of dope, i got a deformed tattoo of you cuz i love you so much. now can you put $100 on my books so i can buy candy bar weed and more tattoos.






Similar topics
---
Permissions in this forum:
You
cannot
reply to topics in this forum