bored at work... tried a portrait with regular office pen shit laying around. about 30 mins i think.
i'm posting it cuz... i spent 30 mins on it!
i'm sure its easier tattooing with a nice stencil, but the likeness is so hard to capture sometimes. the right brain is really really good at facial recognition and i'm not even sure where i went wrong, or maybe its just all fucked up.
at least you can tell its michael jackson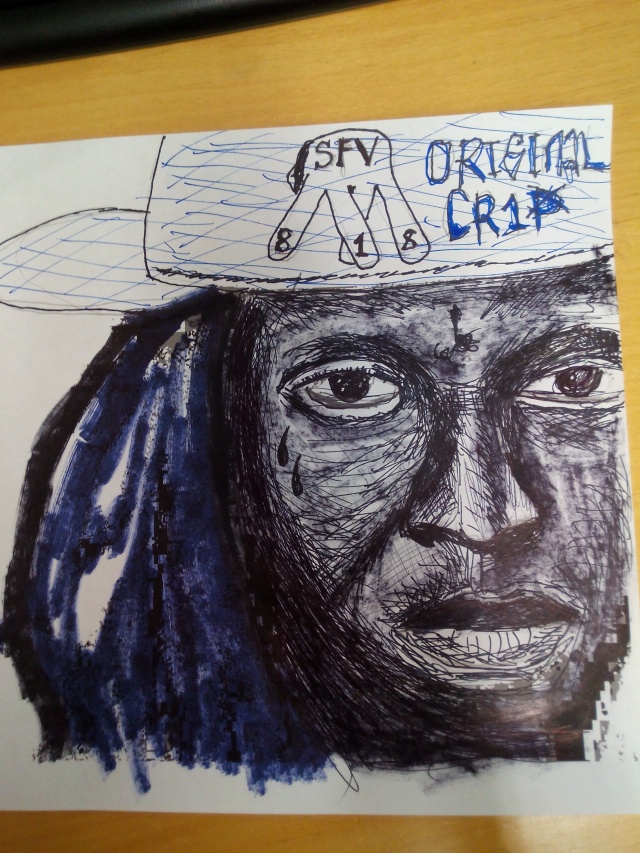 If you're using photo ref (again...you should) draw what you see and not what you 'think' you see. Learning to draw relies on the art of seeing, and I mean really seeing, and then responding.

For example, you've drawn the eyes like you would from memory, they lack the subtleties of shape that would make them believable.

Take a large picture of a face, close up, take a full 5 minutes just looking (hard) at the eye, really study every line / shape and see where the light changes to describe the form.

Then draw it, just the eye,and keep looking at the picture...see the shapes, stop relying on what you think you remember about an eye. It'll be better this way.



Posts

: 149


Join date

: 2016-05-04


Location

: UK



rushed the eyes, rushed the whole thing, rushed posting this doodle

yes, i do that, right brain, focus more, takes more time, more effort, makes my head hurt sometimes

on this one the problem is that i don't get to erase, not that i would have cared to, but portraits without erasing has to be the ultimate, painting, tattooing etc.

and the fact i only use 1 value mostly and my crosshatching sucks

the more i look at it the more it looks like someone else.


, is it meant to be lil wayne ?
Admin




Posts

: 501


Join date

: 2016-05-02



oh my god thanks Lou, real bad ain't it
lol im sorry but yeah it is ,if you havent got time to draw then why draw , you need to give your drawing set time away from everything else , so you can focus on the important thing - the drawing . i know the only way i learnt anything was because i spent a lot of time because a selfish prick , putting my head phones on and telling my fella to pull his weight and watch the kids while i concentrate, surely its not that hard for a bad ass mother fucker like your self ???
Admin




Posts

: 501


Join date

: 2016-05-02



It's horrible,, proper crap!



Posts

: 222


Join date

: 2016-05-02



I tried to do a portrait drawing once and it didn't work out. Will I attempt to do one again? Will I fuck!! Lol.
I could tell it was supposed to be lil wayne (from the hat and hair) but the face don't look nothing like him. If portraits are something you wanna do, just put time in to practice and dont rush them.



Posts

: 215


Join date

: 2016-05-12


Location

: The wet welsh valleys



god damn this thing sucks


Similar topics
---
Permissions in this forum:
You
cannot
reply to topics in this forum