Got this one in early today, maybe helped with momentum after yesterday (??).
The guy had some tribal creeping on to his hand that he wanted covering, so the leaves top right were added...messes a bit with the balance.
I used a 7RL to try and get an old school feel and I personally wanted heavier black shade...he didn't. 9M again for shading. I speeded up my shader to overcome the graininess / peppering I was getting yesterday, which seemed to work.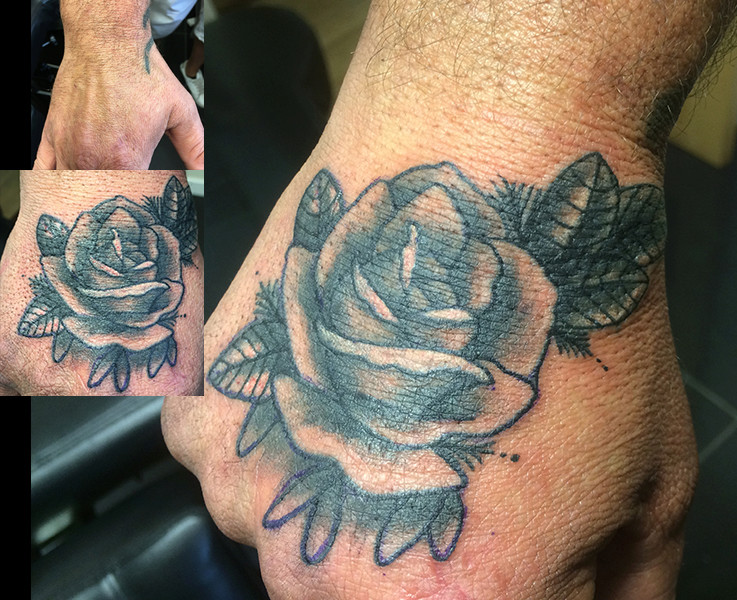 Posts

: 149


Join date

: 2016-05-04


Location

: UK



It could definitely do with some darker shading and a couple of white highlights but if that's what the client wants, that's what he gets.



Posts

: 215


Join date

: 2016-05-12


Location

: The wet welsh valleys



thats a perfect example of when your client is wrong / talking out of his ass , and when you should say well actually this would work better , they grey is far too light imo
Admin




Posts

: 501


Join date

: 2016-05-02



What is going on with the shading at the bottom of the rose and those little leaf things that look like you added them as an afterthought...



Posts

: 222


Join date

: 2016-05-02



That's a fair point. In fact the leaves were part of the original design, the shading was an afterthought. I see that bringing it out the same distance as the leaves makes it look the other way. I may get chance to better define the leaves as I know this guy quite well

Any other suggestions for improving my work welcome, I know it's a long climb.



Posts

: 149


Join date

: 2016-05-04


Location

: UK



On the hand its hard to do because of the limited area to rest your shooting hand, but when you're lining try to do it a bit faster than you think you can,, you may have to speed your machine up a bit to get consistent lines,, but faster is away of neatening your lines.



Posts

: 222


Join date

: 2016-05-02



A rose like that a round shader held at a straight 90 degree angle produces a nice solid line. They're more forgiving in my opinion incase you have to go over again.



Posts

: 93


Join date

: 2016-05-04


Age

: 37





Similar topics
---
Permissions in this forum:
You
cannot
reply to topics in this forum