Admin




Posts

: 501


Join date

: 2016-05-02



i like the 2nd drawing best even tho the script needs improving but you know that already

the 1st i don't like ,i think its because of the antlers or the upside down rose at bottom I'm not sure what it is lol



Posts

: 202


Join date

: 2016-05-07



not impressed at all.
not just out of spite,
but after all that bs about posting original works for all to admire and attacking my drawing exercises out of a book, and copying flash off google for practice,
pretty disappointed i was expecting some van goh type shit.

Get that crap off the C, make the M bigger, and dip the J. You're doing three caps in a row, you can't do too much "whoop".

As I wrote myself, the lettering was not strong = bad, and would be redone.
But Im so sorry that I diaspointed you

yeah, whatever dude...
i happened to copy a piece of sacred heart flash the other day,
it looked just like that, off google.
but since you need to do some custom lettering, and i see the look you are going for, just keep in mind you usually put the whoop on the first cap letters of the word, but in this case you are doing initials, 3 caps, so less can be more and you got too much going on with the C especially, its actually going off in its own direction away from the body of the tattoo if you look at it as a whole, not to mention that is the gayest part.
but its not that bad and if you wanna keep all the extras on the letters consider using an outside stroke to separate the letters by layers, (cuz you will have a lot of overlap and chaos), so you get the illusion of letters on top of each other one on top the other. you can do stuff you cannot do in black,
like this, altho not the best example, the illusion of layers and separation of letters is created by using an outside stroke on the letters. making it more readable, and it don't have to be 3-d. i think this guy fucked up but irrelevent.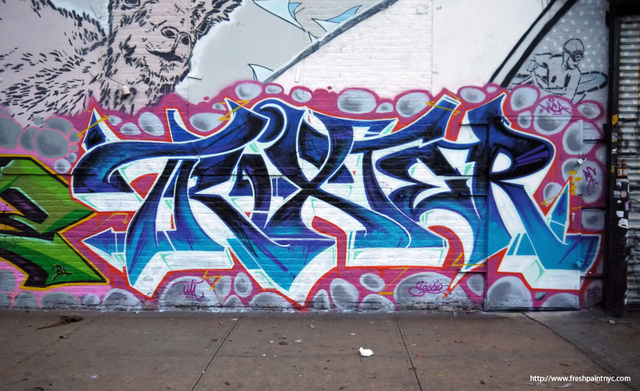 Thanks, I see what you are saying, pretty much the same thoughts I had myself, especialy the whoop.
Im not sure how big he want to goe with this, if he likes the design at all, but if its going to be a smaller piece, im deff going even more simple on the lettering

Please show me the me the sacret heart, you say you saw on google, you might find another nem school sacret haert in same style, but you cant find a copy
you must be implying that yours is original and i will not find an exact copy?
well thats all you have to say, all this playing detective shit is not necessary.

all i meant was the other day i happened to copy this exact motif, heart with a banner, fire, never said exact design, just the shit that pops up on google. just mentioning a matter of fact, coincidental, commonness between us. and yours looks much better than mine, or not i forget.

i see you take yourself very seriously,
well bravo, you really set yourself apart from all the other sacred hearts that are out there just don't let it be the pinnacle of your achievement. and better hurry up and run to the patent office or copyright center to get that bad boy made exclusively yours.

btw seriously, now that i look at it again, its pretty good.

but then again, lets not go fuckin crazy here....

---
Permissions in this forum:
You
cannot
reply to topics in this forum