the letters on the above skull are healed...letters done with 11l & 11bp mag..skull done with 13mag ink was imperial grey wash & black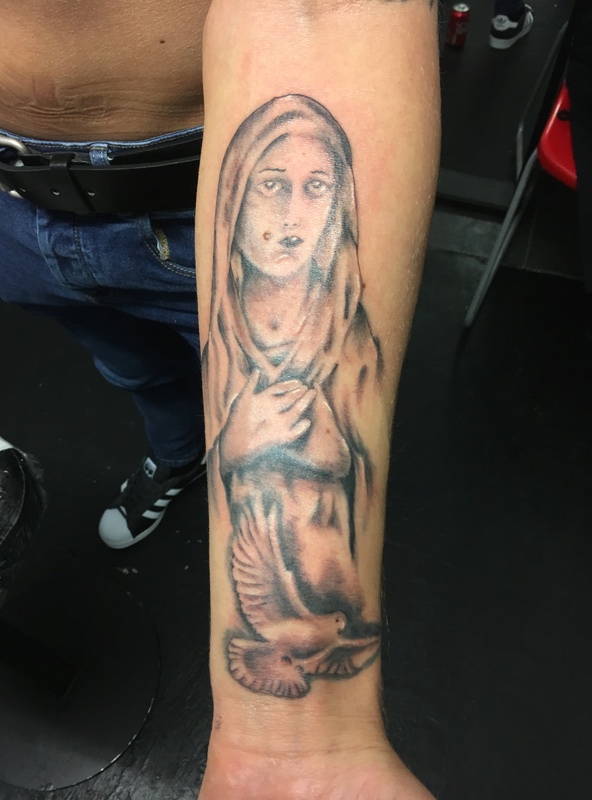 mary & dove done with 7mag & 5rs ink was imperial grey wash
start of cover up,some healed some fresh...done with 11mag & 5rs inks are world famous colour & dynamic blacked dipping for the grey wash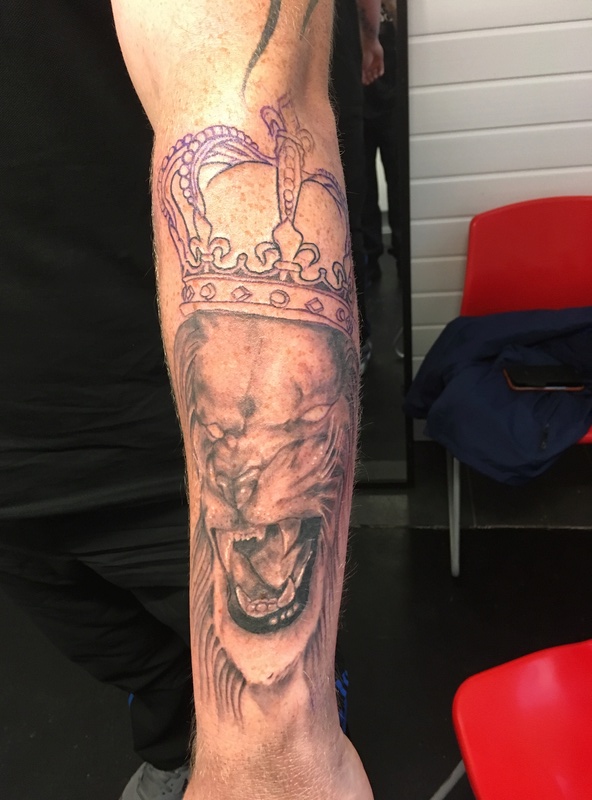 done with 7mag & 5rs inks imperial grey wash
I think you should spend more time drawing and creating a good stencil. That skull looks melted and disproportionate the middle of it ain't too bad, but the side that's by the middle of the chest and the back of the head and jaw is pretty jacked up. Do you have the drawing?
The virgin Mary, the artwork is off, the nose looks like two dots, the good thing is you can always go back in and fix it.
You know what helps drawing the tattoo you're about to do on paper. If you can't make it look good on paper there's no way it'll look good on skin. I'm still learning myself but I turn down tattoos all the time because I know I'm not ready for a whole lot of shit. There's no way I'll attempt a portrait, but I can draw a portrait on paper and make it look good. I just don't have the technique to produce that smooth shading to successfully execute a portrait I'll be proud of. My only advice would be to just spend more time on drawing and a more detailed stencil. I'm not even good yet but I know my boundaries, I know I can draw way better than I can tattoo. It takes time to get used to ink and skin.
the skull looks off as he aint standing straight for 1 & 2 his holding his arm out so the back off the head is gonna look distorted or did you not notice that..the skull reference was took from a picture of a real life skull which was took at a slight angle to not show to much of the other side of the skull

as for the virgin you say the artwork is of but you just pointed out her nose lol

but to be fair i knew you was gonna back lash after the c & c i left on yours..

but the way i see it all c&c is good c&c
We need the criticism from people, because people that know us will most likely just say everything we do is good. I know what looks good and I'm not happy with anything I've done yet. I was definitely gonna critique your pictures, you did sound knowledgeable and I was kind of surprised to see your work. The virgin Mary also has no contrast. It's too light but you can always  go back in and add. How long have you been tattooing?
agree 100% bout the c& c mate

I'm never happy with anything i do either mate lol

i was tattooing bout 1yr before my accident which left me in a bad way so i didn't/couldnt tattoo for a few years..i picked it back up in the summer of 2014 in which i basically had to start over as i had forgot a lot of things due to my brain injury....from then til now i proberly  tattoo bout once a week or 2 weeks as i get tired quick
I basically tattoo once a week on the weekend. I'm fairly new as in I've started a year and a half ago but probably only did annoy like30 tattoos


Similar topics
---
Permissions in this forum:
You
cannot
reply to topics in this forum