I promised myself a crack at a portrait this weekend, so here goes.
Set up 11RM (most used) 7RS 3RL (hardly used) - Canvas: Porky Pig 16cm high
This fucking pained me...all the way through!
I started with a detailed tonal map, which in reality was really confusing and did more harm than good. Once i got flowing I found it better to just eye things in (like I would with a pencil...durr) and next time i'll stick to main facial landmarks as a map. Lesson here was remember how to draw, not get panicky because its made with needles.
Despite reading 'not to', I couldnt help putting a few solid lines in at the start. I got away with the eyes but ones on the neck, cheek and crease on hat still haunt me each time I look at this. Lesson here is follow the good advice.
I decided I wanted a dark image (yep really) so I dropped all the values in Photoshop and printed a deep moody looking image, solid background to lift the highlights (i Thought). Over an hour later I'm still inking in the BG and the result looks more like a gothic painting than a tattoo. Lesson here is let the skin do some of the work. definitely doing an oppositie one (tonally) next time. Light and bright
Final lesson was about ambition. I chose a craggy face on purpose and I liked all the detail in the original picture, all around the scarf and the neck and all sorts. Buy hey, you'll never see that because after so many hours (5-6) I started working the detail out and simplifying...it was beating me.
I'm not completely dissatisfied with my first tattoo portrait, in fact I feel quite pleased with it (as it lives on a pig skin in my freezer, not a person)...but I feel humbled by the challenge. I take my hat off to you guys that have this stuff down. [bows down in admiration]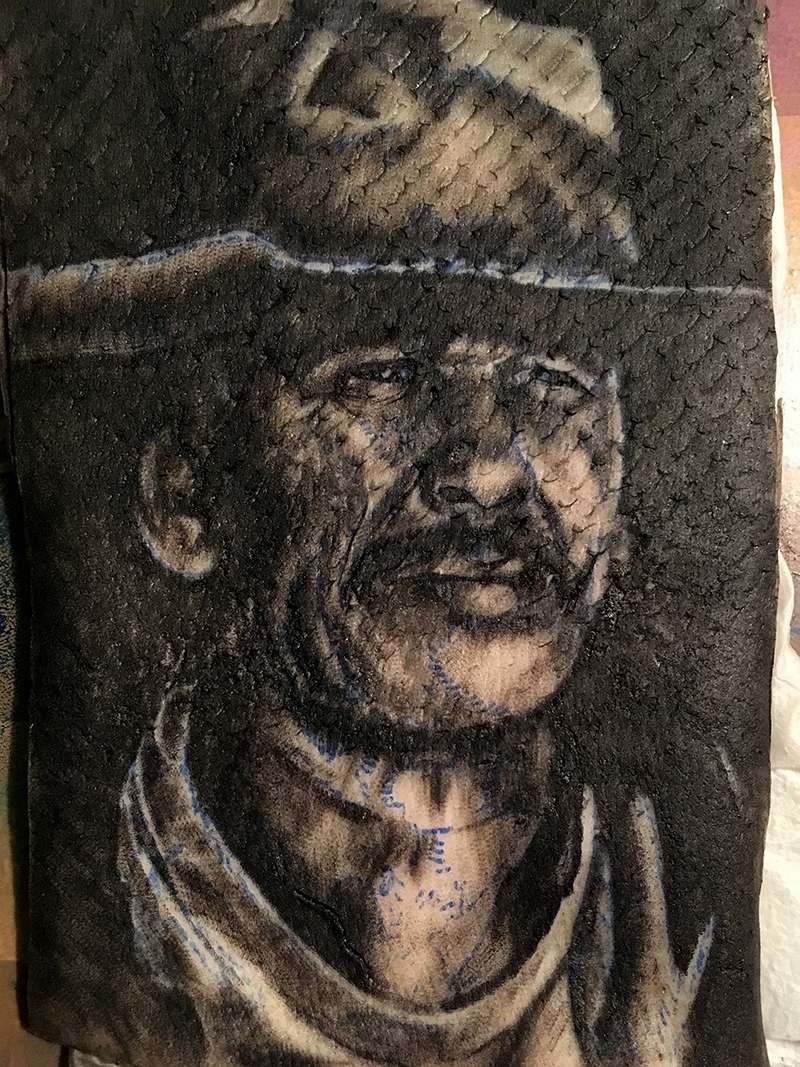 portraits are head stress , i think they are either your thing or they aint , thats my opinion , and i do everything i can to avoid them , you can tell who it is , but its so hard to tell on pigskin , and im the last person to give advice on anything like this
Admin




Posts

: 501


Join date

: 2016-05-02



I think you're right..super stress.

Right now I'm just enjoying trying stuff out that I never did before, see what fits and what doesn't
is that charles bronson?
what was that western with him in it... i forget...
no the other one, the better one
once upon a time in the west
Thank Google you remembered that one
no i swear it just came to me.

and also that british movie "bronson" with the lunatic in prison that thinks he's charles bronson.
Yeah that is Tom Hardy at is very best --- great movie


Similar topics
---
Permissions in this forum:
You
cannot
reply to topics in this forum