7M (most used) 11RM 7RS 3RL - Silverback inks + cheap Chinese orange image:17cm high on Pig
Hmmmm...I enjoyed doing it but not sure beyond that (??)
Problem: The pre-mixed Silverback washes are pretty strong (I think) and require a really delicate touch, like tickling, to keep the shade soft and light...even the #1 'lightest' mix. So I was diluting down with water as I worked, getting a lighter wash and allowing me to be a bit more forceful (or clumsy). The watery wash went in a lovely soft grey, but after around 10 minutes it went really dark (on and around the nose), while the un-watered silverback stayed true to how it went in.
I've had this problem before when I diluted some cheap black ink...I blamed the cheap ink.
Does anyone know why this happens and is this colour change the same on live bods, when washes are diluted down further...with water?
Also I see 'mixing solutions' advertised. Is this a clue to my problem?
Other niggle: my stencil is sticking like s*** to a blanket and won't budge after working, even with rubbing alcohol, hence the blue lines everywhere. Again any ideas how to fix this?
Any advice welcome...ty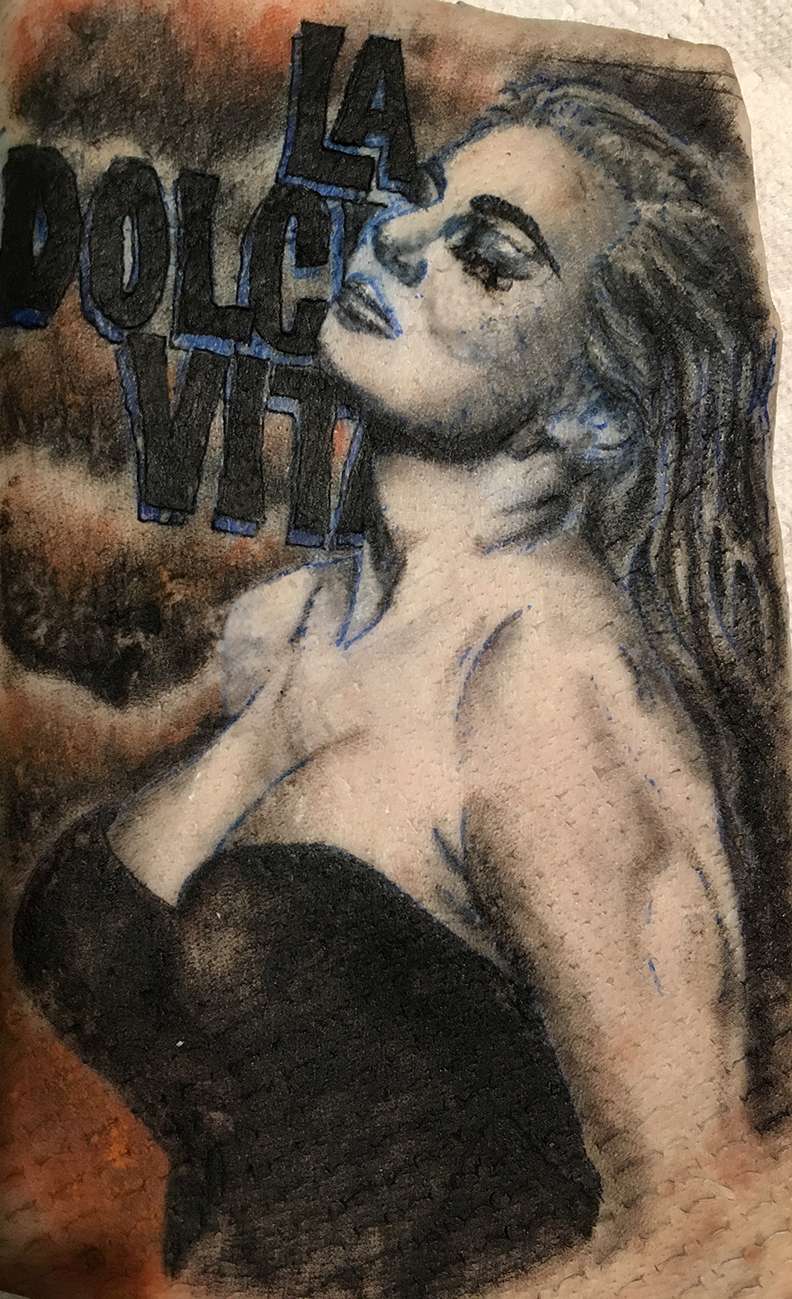 Posts

: 149


Join date

: 2016-05-04


Location

: UK



you say this now after i just bought that stencil stuff you were blatantly spamming before? well its better than losing the stencil, happened to me yesterday and i thought, i better buy that shit asap. its not that cheap either.

have you noticed the light grays on pigskin seem very near to the surface, like they have barely been put in, totally not the depth of what it should be under human epidermis. it just seems to lie near the surface, looking dry and matte. that's what i think anyway.





Posts

: 301


Join date

: 2016-05-04


Age

: 38


Location

: Southern West Coast U.S.A. 818/213



I agree, and the problem is there's no healing process to see what happens next.

I'm struggling to get smooth shades and transitions too. It's 'a bit' like what I was after, but not 'what' i was after. More work to do here.

Also on Bronson and this I put in solid lines, on the lettering here. Fucking killed it (in a bad way) both times



Posts

: 149


Join date

: 2016-05-04


Location

: UK




---
Permissions in this forum:
You
cannot
reply to topics in this forum